When cannabis legalization was looming in Canada last year, many Canadians across the country weighed the pros and cons of buying their pot over growing their own.
Legalization has allowed citizens in some provinces to grow up to 4 plants, and to have up to 30g of pot on their person in public.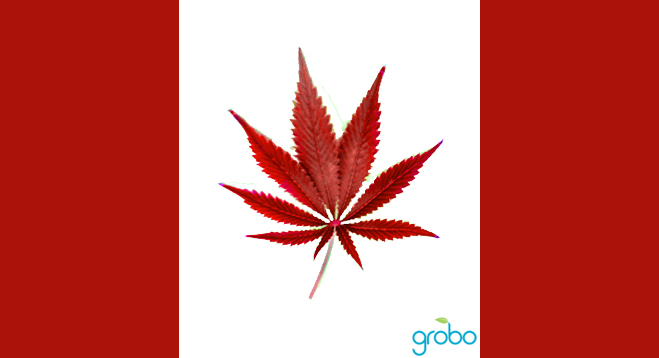 A number of stores have also opened up in cities and online, making the purchase of cannabis and growing equipment more convenient for some people. Which is the cheaper option, though? Is it cheaper to buy or to grow pot in Canada?
We did some research, and here's what we found. . .

Buying Cannabis in Canada
Depending on your province, you can now buy weed from a variety of sources. Ontario, for example, has the Ontario Cannabis Store (OCS) which offers an assortment of strains in dried flower form, pre-rolled form, oils and capsules, as well as seeds.
To get a better idea of how cannabis prices are looking like on a larger scale across Canada, check out this graphic made by Global News: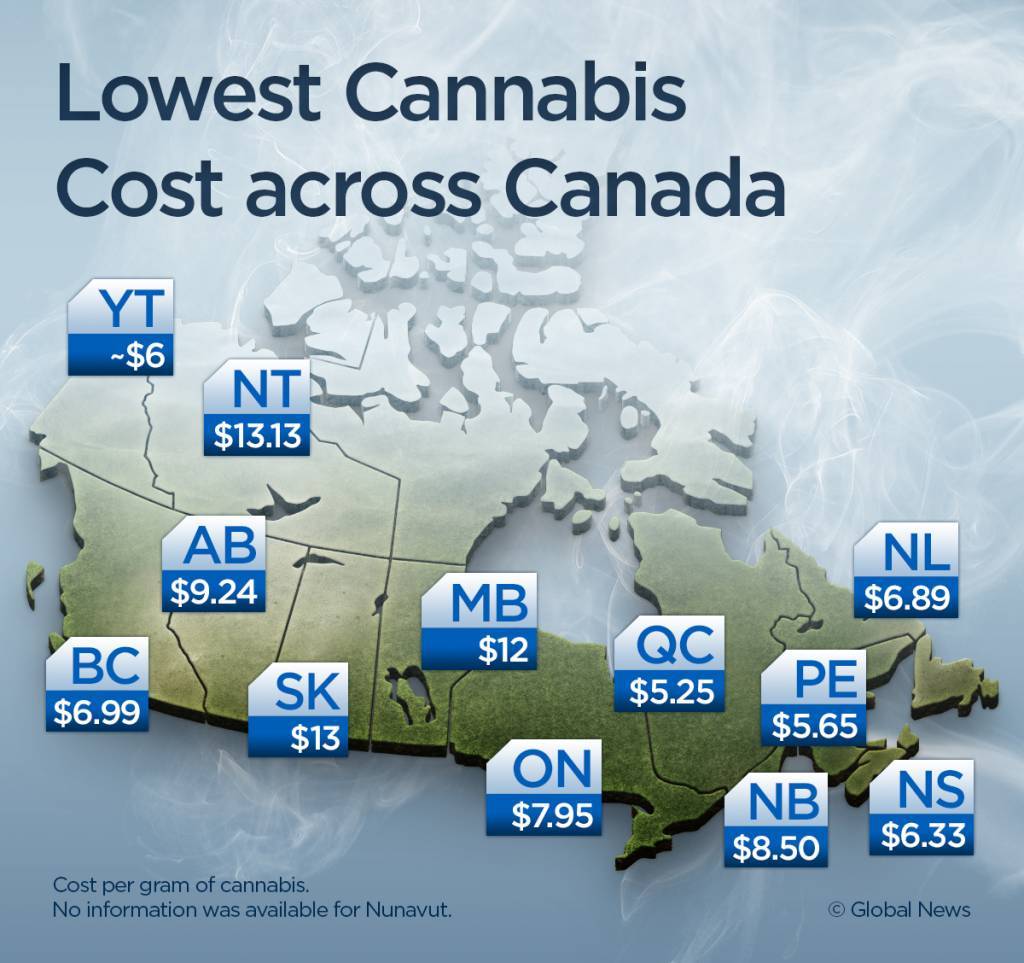 Prices appear to be within the same range (with the exception of Manitoba, Saskatchewan, and Nunavut). It is also interesting to see that Quebec offers the lowest prices, since the Quebec government is one of the most-opposed to cannabis legalization.
Each province has its own position on cannabis (including legalization, prices, forms in which it's sold, availability of product and stores, etc.), and how convenient purchasing cannabis is for you will highly depend on which province you live in.
To get a general overview, let's compare the prices in 3 provinces; Quebec, where pot is listed to be the cheapest, British Columbia, where it's listed to be close to the middle range, and Saskatchewan, which Global News has listed to be one of the higher-priced provinces.
Also, before we get into pricing, we just wanted to say that these are the prices on the websites that we researched right now and those prices are not set in stone and are subject to change.

One of Canada's provinces that is most-opposed to legalization, now has their online store (The Société québécoise du cannabis) up and running, and here are the price ranges you'd be looking at: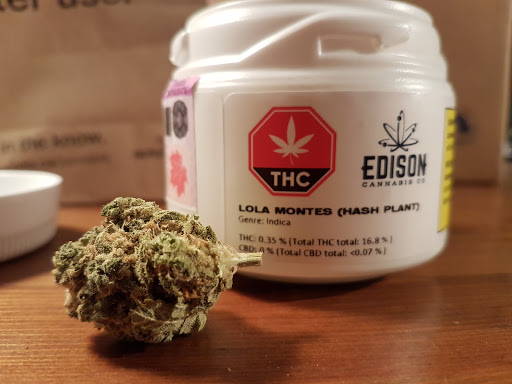 Dried flowers go for anywhere between $6.90 to $12.50 if you wanted to buy just one gram. Pre-rolled pot costs range from $5.70 to $15.20 per joint. Buying oils from The Société québécoise du cannabis will cost you anywhere from $20.20 to $82.30 for 30 ml. Oral sprays range from $30.90 for 15 ml to $158.80 for 40 ml, and pills with cost from around $21.40 for 15 pills to $107.70 for 30 pills.

The website also states that you can only order 30g per order, and that each order will cost $5 in shipping (with some exceptions).

While we were unable to find any physical store locations with listed prices for Quebec, we were able to find 2 other licensed online sellers: Hydropothecary and Aurora. Hydropothecary's dried flowers range from $3 to $15 per gram, while their oils range from $59 to $89 per bottle. Aurora's dried flower prices range from $8 to $8.75 per gram, and their oils range from $75 per ml to $95 per 30 ml bottle.

If you are living in B.C., there are only 2 legal ways that you can purchase your pot; the BC Cannabis Stores website or their one physical store location in Kamloops.
The prices for dried flower on the BC Cannabis Stores site range from $6.99 to $17.99 per gram. Oils and capsules prices range from $16.99 for 30 ml of oil to $99.99 for 40 ml of an oral spray. Buying pre-rolled cannabis will cost you between $4.20 to $15.99 for 1 roll containing 1 gram of pot. If you order online, you will also have to pay a $10 shipping fee.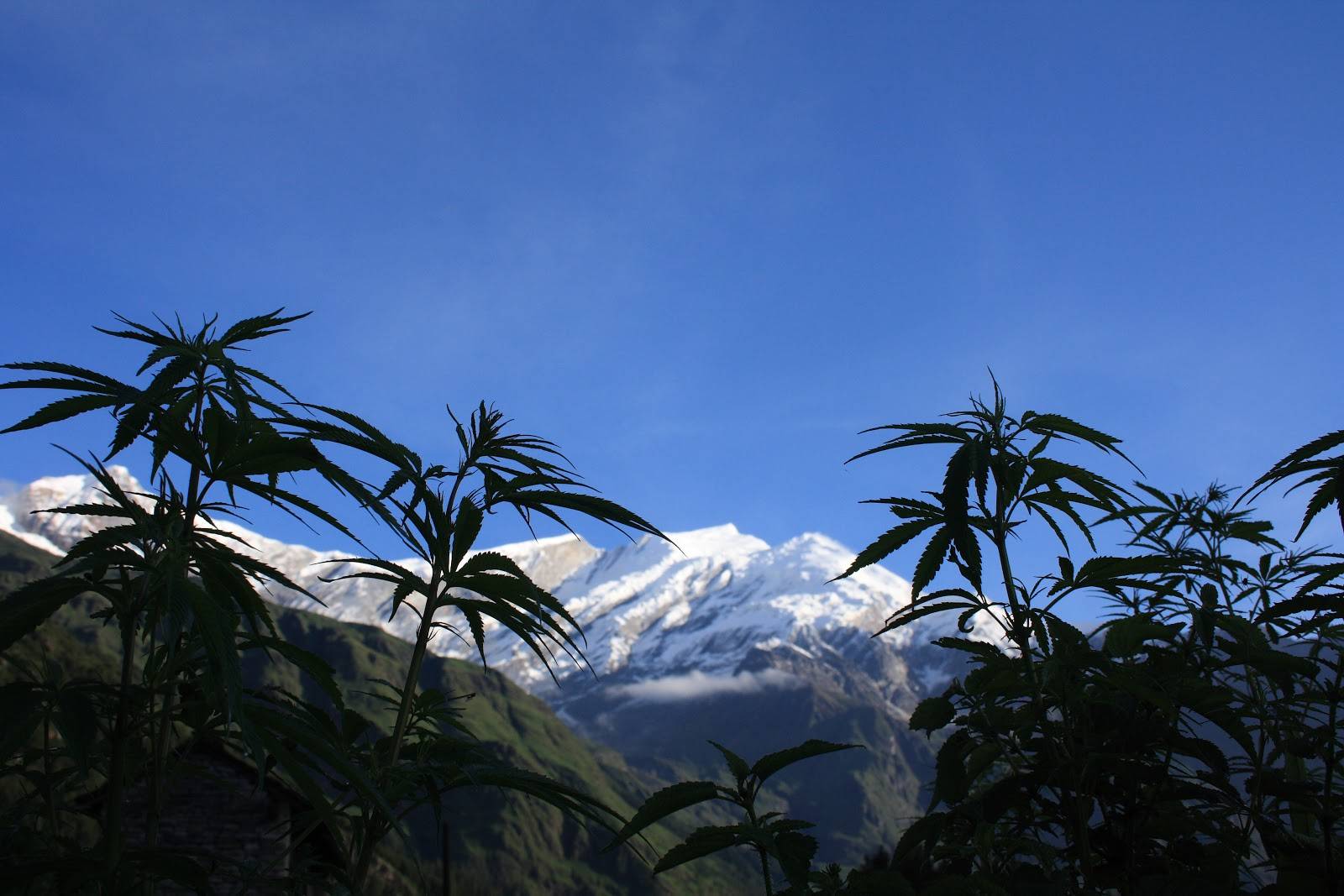 We couldn't find any listed prices for the one physical store located in BC. We are, however, assuming that price ranges will be the same as on the BC Cannabis Stores site, since according to Vancouver is Awesome, all of the products found in the stores will have to be approved by Health Canada.

There are 3 sellers who are licensed to sell in Saskatchewan: Agro-Greens Natural Products Ltd., CanniMed Ltd., and Tweed Grasslands Cannabis Inc. Out of all of them, only CanniMed Ltd. has any prices listed online (and all products are listed as medical cannabis).
One gram of pot from CanniMed Ltd. costs $7.50, with 7 options (varying in CBD content) to choose from. 60 ml of oil ranges from $130 to $160 (depending on the amount of CBD and THC), 60 capsules cost $75, and topicals range from $145 to $175 for 60 ml + 120 ml per kit.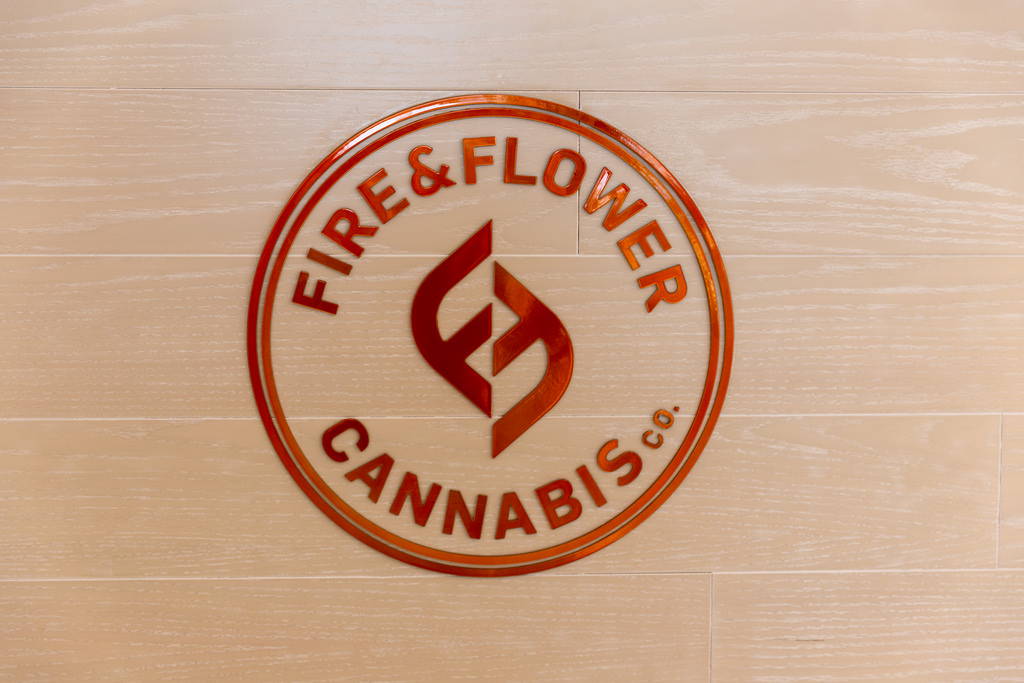 As for physical stores, the ones that we came across were Eden, Fire & Flower, and Jimmy's Cannabis Shop. Eden's dried flowers cost between $10.99 and $14.99, pre-rolled cannabis costs $15.99 per 1g joint, and oils range from $34.99 for 15 ml to $99.99 for 40 ml. Fire & Flower doesn't have dry flowers listed for sale online, but rather has only lip balms, bath bombs, and bath oils listed. Last but not least, Jimmy's Cannabis Shop sells dried flowers ranging in price from $6 for 0.5g to $50 for 3.5g (which comes out to $14.28 per gram) and oils range from $20 for 15 capsules to $98 for 40 ml of oil spray.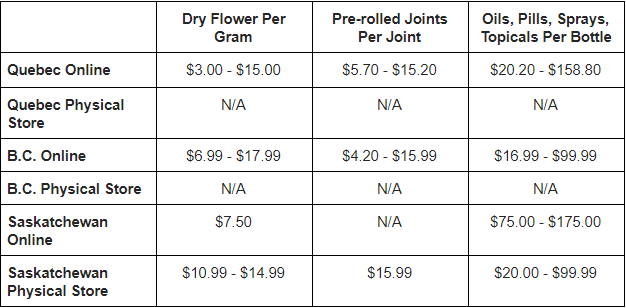 In case we didn't talk about your province in this post, Global News has made a list of locations where you can buy your pot for each province, and you can check it out here.)Now, let's look at how much it would cost to grow your own weed in Canada.

Growing Cannabis in Canada
When it comes to growing cannabis, you have the option to be as involved or uninvolved in the process as you want. If you want to be completely involved and control every aspect of how your pot is grown (aka. lighting, filters, nutrients, timers, etc.), you are more likely to take the grow tent route.
Whereas, if you would like for the process to be more automated and hassle-free, you will likely want an automated grow box. So, how much does it actually cost to grow 1-4 plants at home in Canada?

We will be discussing initial cost as well as cost per month for each option. So, we decided to dedicate a separate section to seeds because it's impossible to tell how many seeds each grower will purchase per month / at a time.
There are a number of places where Canadians can buy their cannabis seeds. True North Seeds is one reliable source for seeds with a large selection (including Barney's Farm, Big Buddha Seeds, Canuk Seeds, Nirvana Seeds, Dinafem, and Sensi Seeds).
For price range, we will use Canuk Seeds, Sensi Seeds, and Buddha Seeds as examples. Buying one seed from Canuk Seeds through True North Seeds will cost somewhere between $20 to $22 per seed. Sensi Seeds range from $9 to $25 for one seed (but you have to buy them in packs containing 3 seeds at the least). As for our third example, if you're looking to buy from Buddha Seeds, they'll cost between $9 and $15 per seed (though you have to buy them in packs containing 10 seeds minimum). All seeds are feminized.


Recently, even government stores (with Quebec, Saskatchewan, and probably some other provinces being the exception) have started supplying seeds at around $60 for a pack of 4 feminized seeds.
Since was can't use Quebec and Saskatchewan as examples for pricing for this portion, we'll talk about how BC, Ontario, and Newfoundland have priced seeds. BC's Cannabis Store sells them for $55.99, the Ontario Cannabis Store sells seeds for $60 for a pack of 4, and Newfoundland sells packs of 4 seeds for $49.47.


We've put together a comparison between costs of growing in a 6x6 foot grow space, a grow space smaller than 6x6, and the cost of growing cannabis with a grow box.
Before we dive in though, we want to note that BNN Bloomberg points out in "From hydro rates to grow tents, what it costs to cultivate your own pot" that hydro costs might do the most damage on Canadian growers budgets. This is due to cannabis plants needing a lot of light (12 hours a day during flowering stage). This observation is not applicable for grow boxes, however, since the monthly hydro cost for using an automated grow box to grow cannabis ranges from $15 to $34.

Growing Cannabis in a 6 x 6 Foot Grow Space
The total cost estimate (see next chart) we use here is provided by Leafy in their article "Costs of Growing at Home vs. Buying Bud at a Dispensary." Included in the price estimated by Leafly for a 6x6 grow space are:

A built grow space ($250)

A 1000 Watt light (including setup ballast HPS bulb, hood) ($200-$600)

A metal halide bulb ($30-$100)

A 6-Inch inline fan ($80-$200)

A carbon filter ($85-$120)

Six 10 gallon pots ($20-$40)

Two 30 gallon water tanks ($50-$100)

60 gallons of soil ($60)

A nutrient starter kit ($50-$100)

Hardware trellising, zip ties, stakes ($50)

And 3.5 months of electricity to power equipment ($700) which we converted to $200, since we would like to estimate one month's worth of hydro costs, not 3.5 months.
According to this information, the total initial cost would range somewhere from $1575.00 to $2320.00, with the monthly maintenance cost sitting at about $200. Also it requires you to be able to dedicate a large amount of space in your house to a grow.

Growing Cannabis in a Grow Space Smaller than 6 x 6 Feet
For grow spaces smaller than 6x6 feed, Leafly recommends buying a grow kit that already contains everything you'll need to grow except for soil and seeds/plants. A 2'x2'x5' grow kit, for example, costs around $900, while Leafly estimates the cost of four 3 gallon pots, and 20 gallons of soil to come to a total of $40. The overall cost would therefore range from around $940 to $1000 (excluding the seeds or clones you'll use to grow).
Leafly didn't provide an estimate for energy costs, so we'll just estimate that based on a 6x6 growing space costing around $200 a month, a 2x2x5 grow space would consume somewhere around $70 to $100 worth of electricity per month.

Growing Cannabis with a Grow Box
If growing with a grow box is the choice for you, you can further customize your experience by choosing the grow box that is best-suited to your lifestyle.
The initial cost and maintenance costs of a grow box can vary based on which brand you choose. According to "Seedo vs. Grobo" and Heavy's article "5 Best Grow Cabinets for Marijuana: Compare, Buy & Save (2018)" here are some of the initial costs of purchasing a grow box based on brand:


At this time, we only have information on the energy consumption from Grobo and Seedo. Seedo will cost you around $34 a month to run, while Grobo will cost you $15 (both including nutrients and hyrdro costs). If you are interested in learning more, you can read the full Grobo vs. Seedo comparison here.


Having looked over the general information regarding the cost of buying or growing cannabis in Canada, it's now up to you to decide which option works best for you.
It'll all likely come down to how much cannabis you consume, how much money you want to spend, and how much work you want to put into consuming and/or growing cannabis.
If purchasing a grow box ends up being the option best suited to you, you can read more about how grow boxes work in our article "High Tech Automation and Growing Weed"